In 2019 Janet Jackson performed her 18-date Metamorphosis concert residency in the Park Theater, located in the Park MGM hotel in Las Vegas. The CyberHoist II system allowed the shows to go above and beyond in realizing the artist's vision, ranging from the inclusion of a suspended bridge with 16 dancers to Janet herself, lowered 15 meters from the roof on a half-ton illuminated Taurus sign. CyberMotion USA supplied the gear from its Rental office located in Manheim, Pennsylvania, and enlisted experts in the field from both the US and the Netherlands.
CyberHoist II programmer/operator Charlie Pike explains how the system was used: "We used a total of 58 hoists for Metamorphosis, Janet Jackson's Las Vegas residency. At one point in the show we had 56 hoists move at once, all controlled from one console. In total, we had 14 objects. At the beginning of the show Janet rode a half-ton illuminated Taurus sign while a single 1.5 ton see-through video wall was lifted downstage. When she landed on the stage three identical screens of over 1.5 tons moved around to complement the performance. At the beginning of another song, the video walls and the drapes covering the band on custom built band risers both lifted out of view."
During the remainder of the show, the video wall and drape elements moved all around the stage, along with two dance cylinders and a lighting truss with multiple GLP X4bar20's. At the peak of the show, a massive 4-ton bridge was suspended in the air by 20 motors, on which Janet and her 16 dancers performed her hit State of the World.
"All in all, we moved approximately 14 tons of scenery, lighting, video, dancers and of course, Janet Jackson." -CyberHoist II programmer/operator Charlie Pike.
Frits Ton, CyberMotion's Technical Project Manager from the Netherlands, spent one month in Las Vegas to assist in the preparation of the residency, including training Charlie Pike to operate the system. Initially, the load in of all the equipment had to take place in a nearby stadium, as the MGM Park Theatre was unavailable at the time due to other commitments. By the time setting up the show in the theatre itself was possible, CyberMotion simply packed up the equipment, only to unload it and rebuild the set one kilometer down the road. Since the system was created with (global) touring in mind, combined with the team's extensive experience in the field (including a global Rammstein tour in 2016/2017, during which a set of nearly 50 hoists could be set up within two hours), this posed no issue at all.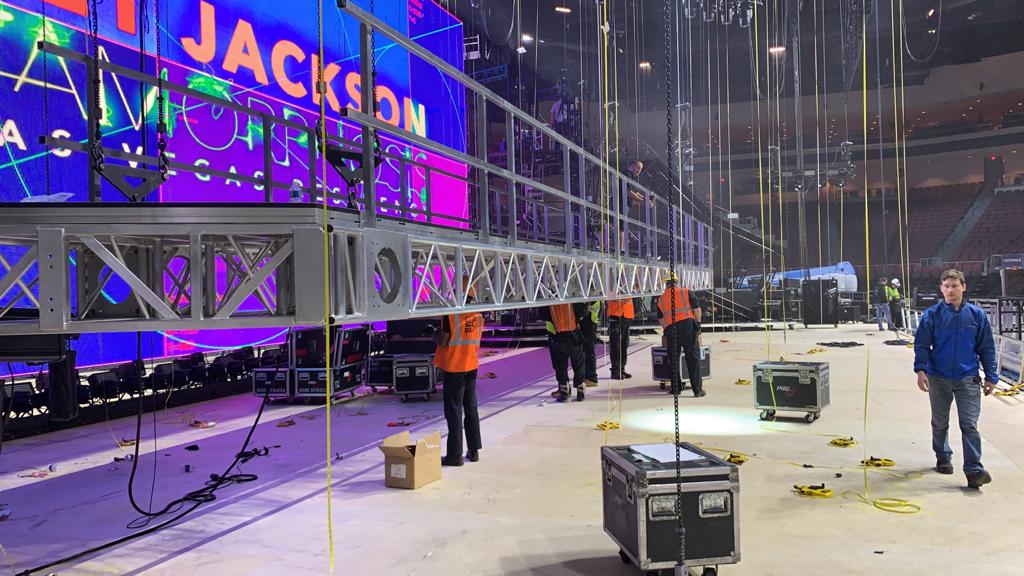 "To me, this project truly stood out since we were not just lifting objects, but performers as well, including Janet herself," Ton explains. "The smallest mistake would have grave consequences, which is part of the reason why CyberMotion was asked for this particular project. We are one of very few in the field that can guarantee that the chain length of our hoists is always precisely as programmed, down to one tenth of a millimeter. When hoisting equipment or people at great height, this feature is crucial in order to ensure safety."
The experience and support brought into this project by CyberMotion's team proved to be of great value. Charlie Pike: "The CyberMotion team has been incredibly helpful and supportive in ensuring the successful execution of these shows. They have been an amazing partner and helped to make sure all show elements were executed perfectly and with the utmost attention to safety and reliability."